Are you looking for updates in your residential garage or work shop? Why not check out laying down Anchor Bond™ 100% Solid Epoxy Vinyl Flake Flooring System?  There are several benefits to having your garage floor coated.
• Slip resistant
• Clean and attractive
• Neighbor Envy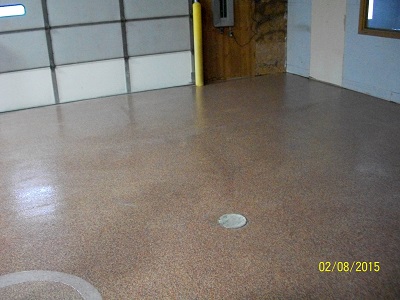 In our house, we have what's called the "grab it all and go syndrome."  When we get out of the car, we grab the kids, the toys and all the groceries we can carry in one fell swoop. We've made a sport of who can make the least amount of trips made back and forth from the car.  Having a non-slip garage floor helps keep away the worries when it comes to everyone making it safe in the house.
You will have the ability to pick your flooring coloring.  We have many flakes and colors to choose from.  Don't see one you like?  Let us know.  We can help with that too.
We are local to the Green Bay area.  Let us give you a quote.  We do many industrial floors and also do many garage floors and workshops for home owners.
We are professionals and know how to get the job done right the first time.  You will automatically add value to your property and be the envy of all your neighbors.  Go on, start a trend in your neighborhood now. Call us today. Let us floor you!